TLC Tango 20th Anniversary party
Time
8:30 pm - 11:00 pm
Location
TLC Studio
Categories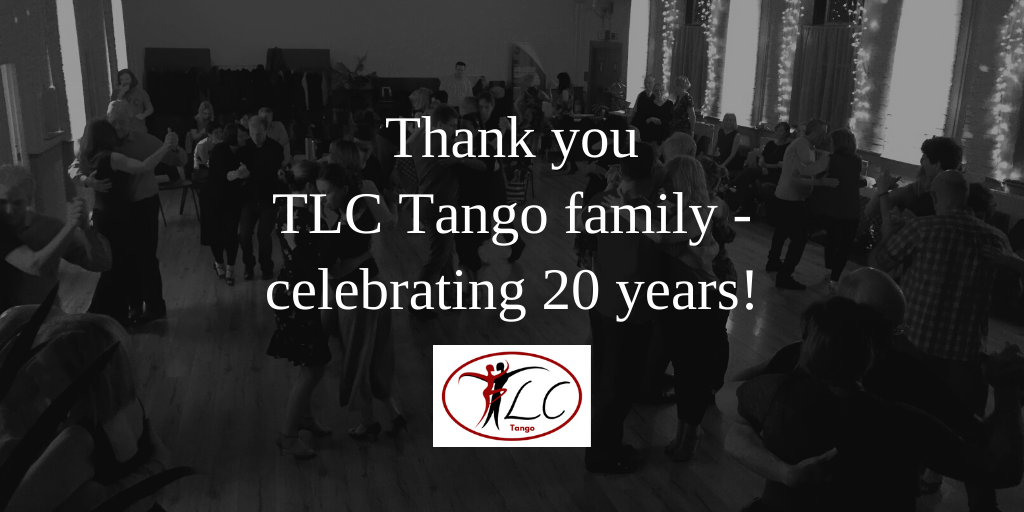 Thursday 28 May 8.30pm
It's nearly here – the newest way to bring the TLC Tango Family back together again to celebrate 20 years of TLC Tango in Southampton – on Zoom tomorrow (Thursday)!
If you join from the Zoom app, enter this ID:
Meeting ID 812 0217 9803   (no password required)
Or click this link, to your browser:
https://us02web.zoom.us/j/81202179803
which will launch Zoom & you enter the party.
If another box pops up, click on the box  'Zoom.us' to enter the party – It's very simple!
Let's dress smart with your choice of socks (!) or your beloved Tango shoes !
FORMAT:
Join us for the nearest experience we can have to 'dancing together' ..
8.30pm Doors open & Tracie will welcome you to the party
Time to chat, ensure people are confident with how Zoom works and time to get a tipple or 2 and put on your dance shoes!
8.45pm   Mini class of solo footwork to a Tango Vals track
                & dance together on screen!
If you want to learn this beforehand, I have pre-recorded it for you – see below on this page
9pm       Mingle where you want to:
2 rooms playing magical music to listen or to dance to:  Traditional with DJ Jos Ephine  &
Alternative with DJ Claire New
Plus rooms without music for chatting and catching up with your friends.
You can go between rooms, and back and forth as much as you want
9.30pm TLC Montage of Moments – shown in photos and videos from over the years.
9.45pm Continue with the party & all rooms open
10.15pm Last Tanda 
10.30pm All welcome to the after party!
We are celebrating 20 amazing years from when I first asked Brian & Fiona Gale to start teaching Tango at TLC, (then at Hulse Road Social Club / Bannisters Ballroom) and from taking those first initial steps, I never knew how BIG and supportive our Tango community would grow and the contribution it would make to the sum of Tango in all corners of Hampshire.
Together we are celebrating the music, the dance, the connection, and also our longing to return at some point. Dancing is optional, it's more that we are all together again.
The longevity of the club is all down to YOU, our TEAM, our GUEST teachers – and ALL your support, engagement, sharing, caring connection and passion for dancing and for that we must keep our connection alive.  With your super support we WILL return again & be stronger together.
The huge benefit of this event is that wherever you are in the world and whenever you joined TLC Tango, we can all be together.
Please click 'going' and share the event with your dancing friends (there is no limit as I have the Zoom upgrade!)
This event is totally free.
However should you wish to support TLC, and only if you are in a comfortable financial position to do so, please follow this link www.paypal.me/tracieslatinclub
Thank you.
TECHNICAL INFO:
You can click the link I posted above which will take you to Zoom, enter the Meeting ID above and join the party
Or you can use / download the Zoom app from any device and just enter the Meeting ID above, but please note…
Desktops and laptops work well with Zoom, as you can see all the features on the screen. Phones & other devices can be used but are very limiting – unless you are a pro Zoomer!
For a bigger experience, you could hook up your device to your TV screen and / or hook up to normal / or blue tooth speakers
During the party, we will give guidance on how to use Zoom for a greater experience
While this is VERY exciting to host, please bear with us as it will be the first time we have used multiple rooms for an online event!
I have pre-recorded an easy class of solo footwork – SEE BELOW – to a gorgeous Tango Vals track by Hector Varela, Del Salon en el Angulo Oscuro, with different options for different levels of experience.  If we all learn this before the party, then we can dance it 'together' online.  This is of course completely optional – the main thing I want is that we are all together again.
Click on the red arrow below to play the video in YouTube and t

o view in full screen, click the square, bottom right. To exit full screen, you can press Esc at any time. You might also be able to view it on your TV for a larger screen experience (you'll need to figure that out for yourself as there are too many variables, sorry!)
This event is totally free.
However should you wish to support TLC, and only if you are in a comfortable financial position to do so, please follow this link www.paypal.me/tracieslatinclub
Thank you and hope to see you all there
Add to iCal or