St. Barnabas Hall, Lodge Road, Southampton, SO14 6QS, UK - Contact: 07889 288 368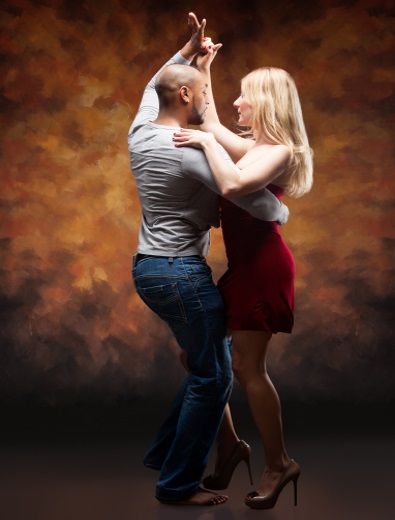 If you would like to express your sensual side through dance, then beautiful Bachata is for you!
Bachata originated in the Dominican Republic, but has evolved into a variety of styles as it spread across the world.  In recent years it has seen an explosion of popularity, especially for Bachata Sensual, which requires a lot of body movement.
Often, Bachata tracks are played within Salsa nights, and sometimes vice versa.  With this pairing in mind, our Bachata classes are immediately before our Thursday Salsa classes every other week, and many people come to both classes.  The social which follows is a 50:50 equal mix of Bachata and Salsa tracks.
We have a very fun and friendly Salsa & Bachata scene in Southampton, where we love to dance, and TLC has been teaching salsa here since 1996.
Partners are very welcome, but you can just turn up on your own or with friends and we'll rotate the partners for you – it's a great way to meet new friends.
All our Bachata classes are on a drop-in basis, including beginners.  We have 3 levels, with Joanna and Daniel teaching the Advanced Level 3
Also, look out for our Bachata / Salsa Socials on the Events page. There is also Bachata played at all the Salsa Socials, including the TLC Ball.
Fortnightly Thursday Bachata
Details
Thursday Bachata is at the TLC studio.
All classes are on a drop-in basis, no booking required.
If you haven't been to TLC before, please ask one of the teachers to advise on which class you should take.
No partner is necessary.
Prices
Bachata class only: £5 on the door (£3.50 concessions: NUS & IoW)
Bachata class and social: £8 (£5 concessions)
£3 if arriving after 9.30pm for social dancing only
Discounts – if paying for Bachata & Salsa classes (including social), pay only £11, saving £2 (£7 concessions).
Further discounts are available with our monthly subscriptions.
Class and social dance schedule

| Time | What's on |
| --- | --- |
| 7.00-8.00pm | Level 1: Beginners Bachata with Debbie |
| 7.00-8.00pm | Level 2: Improvers Bachata with Marcus / Gareth |
| 7.00-8.00pm | Level 3: Experienced Bachata dancers with Joanna and guest teachers |
| 8.00-9.30pm | Salsa classes |
| 9.30-11.00pm | Social dancing with DJ Steve (50:50 bachata / salsa) |
We also have vouchers available to purchase as a gift, for any of our individual classes.
Classes Coming Up
Bachata classes for the next 3 months:
No Events