St. Barnabas Hall, Lodge Road, Southampton, SO14 6QS, UK - Contact: 07889 288 368
These items are for sale as a result of selling two houses and moving in to one house together – consequently having more items than needed!  It's first come first served.
Thank you for viewing and if you are interested in any of these please message me directly:
via email:  info@tracieslatinclub.co.uk  or
via mobile:  07889 288368
---
Dimplex 'CADOGAN' Opti-myst Electric Fire, Black     £285
Model CGN20
This wonderful electric stove really adds character to your room.  It has a cosy realistic glow without the mess!
I purchased this in 2010 for £800 and am reluctantly selling as moving house (which has real fires).  It looks brand new, with no damage.  I haven't used it much as I often work a late shift and therefore it is in very good condition.
The photos do not do it justice.
The flames created by the 'mist' effect are amazing.  The water in the canister is heated via LED lamps and the light shining through the steam creates a wonderfully realistic flame effect.  You can search for it on youtube.
It is a very substantial unit and will need 2 people to carry it.  
Dimensions in mm: 713mm high x 668* wide x 423mm deep 
*NB Allow 300mm clearance on both sides of the stove so that the doors can be opened fully
Other benefits include
Flame effect can be used on its own, or with the fan, or just the fan on it's own

Flame effect is extremely quiet if not silent, can be variable adjusted manually or from the remote

2kw Fan heater and thermostat

Twin doors at the front to give a wide view of the flame effect

Suitable for living room, lounge, dining room, bedroom, study or conservatory

Classic cast effect black finish

Remote controlled with two heat settings

Realistic log fuel bed with random flicking flames

2 litre water canister is very easy to pull out, fill and lasts about three/four nights of use
Cash on collection only – near Southampton General Hospital
---
Radiator cover   £30
A wonderful free-standing radiator cover in excellent condition, painted cream with attractive natural coloured lattice grill
This is a bespoke item measuring  1650mm long  x  885mm high  x  155mm depth
The cover also features a very useful shelf on the top
The back is unpainted
There are 2 very small surface scratches on the top shelf (as shown on the picture) but these are hardly discernible  
Cash on collection only from Swanwick, near Southampton/Fareham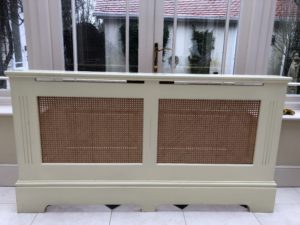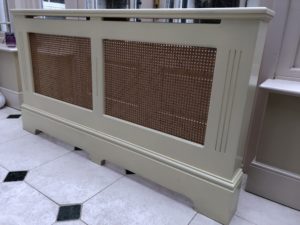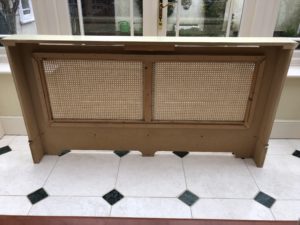 ---
Beautiful ornate iron fireguard screen    £30
Beautiful yet sturdy ornate fire screen made from iron and has a fine metal mesh covering, giving good protection against sparks etc
Attractive black curved ironwork which looks beautiful with the flames behind
This is a very sturdy and solid screen with splayed feet to give more stability
In very good condition measuring:   825mm length x 830mm high
Cash on collection only from Swanwick, near Southampton/Fareham
---
The Last Kingdom Series 1 + 2 Complete season BBC £15
Brand new, still in it's original sealed plastic wrapping
Someone else purchased this for me at the same time as I purchased it for Xmas!
Well worth a watch as it's a gripping action-packed blood-thirsty epic!
This can be posted or collected from Swanwick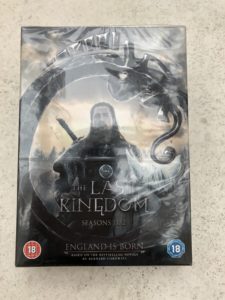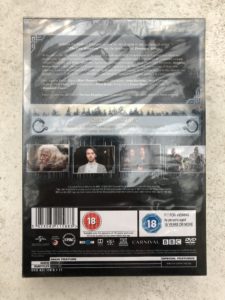 ---
Smart grey curtain pole with spherical wired finials £15
Smart grey curtain pole in excellent condition with open spherical wired finials in grey
Also included are 2 brackets (11cm long)  and 18 curtain rings
140cm total length including finials  and the pole length itself is 120cm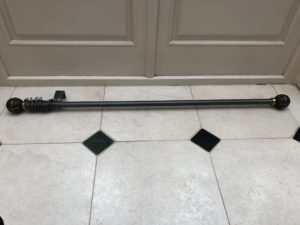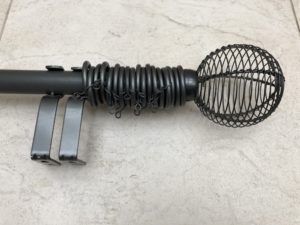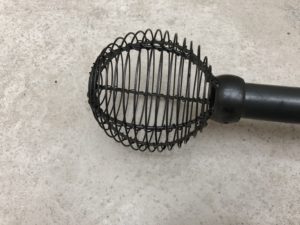 ---
Smart grey curtain pole with solid gun metal grey finials £15
Smart grey curtain pole in excellent condition with solid gun metal grey ball finials with gold coloured detail as on photo.
Also included are 2 brackets (11cm long)  and 18 curtain rings
134cm total length including finials and the pole length itself is 120cm
Cash on collection only from Swanwick, near Southampton/Fareham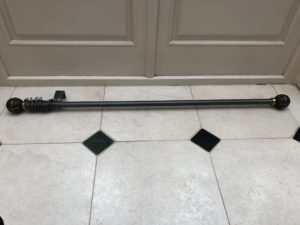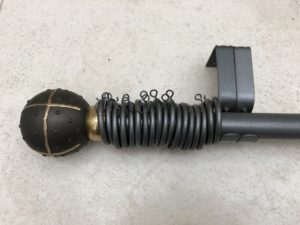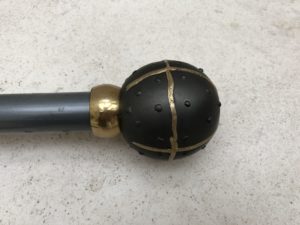 ---
Coffee maker glass jug with silver lid     £5
Unfortunately I can't remember the manufacture of the coffee maker!
Cash on collection only from Swanwick, near Southampton/Fareham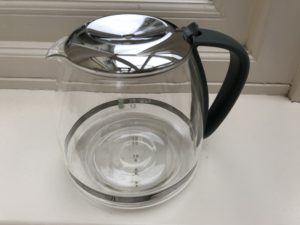 ---
Over-door extendable hanger     £5
A very useful over-the-door extendable hanger in shiny silver with 6 hooks that can be extended to suit your own width of door.  In excellent condition as never used.
At maximum stretch the outside hook width is 69cm and when collapsed the width is 11cm.  You can adjust the width to any size in-between
Will fit over a door up to 44mm thick
It can also be collapsed to a very small space when not in use – as shown
Cash on collection only from Swanwick, near Southampton/Fareham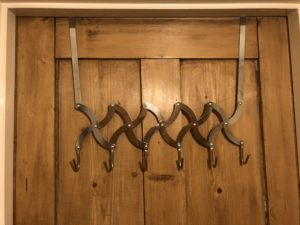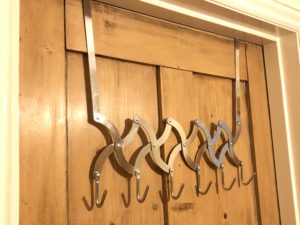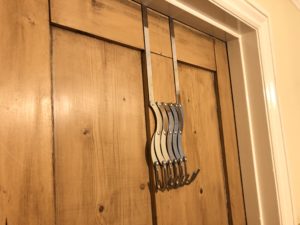 ---
Beautiful purple Phase Eight shoes size 5    £25
Only worn once, these beautiful purple satin shoes are in wonderful condition.
They are size 5,  slim fit with 4″ heels
Cash on collection only from Swanwick, near Southampton/Fareham