Time
8:00 pm - 11:00 pm
Location
TLC Studio
Categories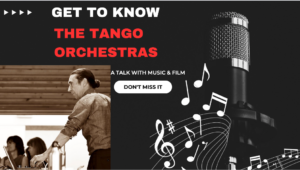 Our wonderful guest teacher David Thomas, from Tango Journey in Newbury, will be teaching on 28 March to Levels 2, 3 & 4 on the topic of getting to know about the different Argentine Tango orchestras!  The class will be a brilliant mix of film, talk and dancing, so that everyone can enjoy and gain an insight into some of our beloved Tango orchestras and how to dance to them.

David has written and will be selling copies of his book 20 Different Orchestras which is a quick and easy explanation of the most popular Tango orchestras.  He will also be DJing !
8pm     Level 1 Beginners in the back hall
Level 2 / Level 3 / Level 4 with David Thomas in the main hall
9.30pm Milonguita / social dancing with DJ David Thomas
Cost:    £13  if paying for this class on a 'pay as you go basis' by cash or card on the door
(if you already have a 4 week pass, then it is £2 to top up with cash/card on the door)
If you haven't been to TLC before, please ask Tracie to advise on which class you should take.  No partner is necessary.
Add to iCal or