Tuesday Tango Classes with Mabel
Mabel's Advanced Tango class
Time
8:00 pm - 11:00 pm
Location
TLC Studio
Categories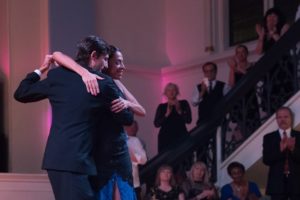 For those with at least 2 year's regular experience of Argentine Tango, our Level 4 classes are held with Tracie and guest teachers, where you can drop-in on a weekly basis.
Mabel Rivero
is an exceptional and inspirational teacher, sharing with you new ways of enjoying the dance, connecting with your partner, feeling the music and how to share a wonderful moment.
This year, our wonderful guest teachers will be teaching on the Tuesday nights only and Mabel will be our first visitor.
The format remains unchanged for Levels 3 & 4 :
8-9.30pm   Level 4        with Mabel
Level 1/2/3  will be with our lovely TLC team of teachers
9.30pm         Milonguita
11pm            Close
Entrance  £12 for Level 4 with guest teachers
Entrance  £10 for other levels
£3 entrance if you only attend from 9.30pm for the Milonguita
Add to iCal or