Tuesday Tango Classes with Mabel
Mabel's Advanced Tango class
Time
8:00 pm - 11:00 pm
Location
TLC Studio
Categories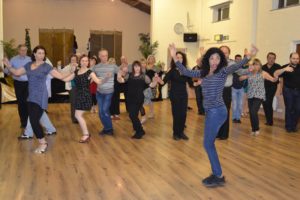 For those with at least 2 year's regular experience of Argentine Tango, our Level 4 classes are held with Tracie and guest teachers.  These are drop-in classes, held on a weekly basis, and there is no need to bring a partner as we all dance together in our respective levels.
Mabel Rivero
is an exceptional and inspirational teacher, sharing with you new ways of enjoying the dance, connecting with your partner, feeling the music and how to share a wonderful moment.
She will only be teaching on the Tuesday night only.
Format of the evening:
8-9.30pm     Level 4        with Mabel
Level 1/2/3   will be with our lovely TLC team of teachers
9.30pm         Milonguita
11pm            Close
Entrance  £12 for Level 4 with guest teachers
Entrance  £10 for other levels
£3 entrance if you only attend from 9.30pm for the Milonguita
Add to iCal or