Tango Workshops with Sophie Martinez
Sophie's Tango workshops
Time
11:30 am - 4:15 pm
Location
TLC Studio
Categories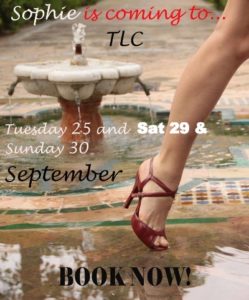 Saturday 29 September – LADIES DAY !
Sunday 30 September – Leaders & Followers day
This is a fantastic opportunity to learn from the sensational Sophie Martinez over 1 or 2 days and concentrates on wonderful technique which we can only touch upon in our regular classes
SATURDAY 29 September  –  LADIES / FOLLOWERS DAY:
All levels are welcome
Posture, the art of walking (in all directions!), quality of movement, understand your axis, empowerment, awareness of musicality and this will be in preparation for Sundays workshop full of decorations
11.30 – 1.30   Workshop 1
1.30 – 2.15     Lunch
2.15 – 4.15     Workshop 2    Totalling 4 hours
Cost £40 for  day 1
SUNDAY 30 September – LADIES / FOLLOWERS DAY
All levels welcome if continued from Saturday
Only Advanced Level 4 students can book this as a 1 day workshop
11.30 – 1.30  Followers decorations with Sophie in main hall
1.30 – 2.15   Lunch
2.15 – 4.15   Sophie will put everything into place for Followers using all the above material and you can practice your new found skills with the Leaders
Enjoy sharing the embrace, the music, technique & your new decorations
Cost  £40 for day 2  or £70 if booking for both days with 8 hours tuition
Please email Tracie  to book your place and specify which workshop you require or both – info@tracieslatinclub.co.uk
LEADERS – 

Sunday 30 September:
11.30 – 1.30  The art of leading with good posture, intention and awareness with Tracie in the back hall
This is a 'back to basics' workshop, giving you confidence, awareness and style.  You will all be dancing with Tracie,  !   Cost £15 & suitable for all levels.
1.30 – 2.15   Lunch
2.15 – 4.15   Leaders workshop with Sophie.
Leaders can focus on their technique and will be given suggestions on how to have a higher quality of movement and sensitivity to their partners.  Thus creating a different feeling in the dance for each partner and hone the art of listening to the followers while they use their decorations
Both will be focussing on the art of connection with good posture, joining 2 people together, to really communicate musicality, giving new dimensions and flavours, according to the moment, thus creating a unique tango each time.
Suitable for TLC level 3 & upwards or minimum 8 months experience.
Cost  £15 for Tracie's workshop,   £20 for Sophie's or £30 for both.
Please email Tracie  to book your place and specify which workshop you require or both – info@tracieslatinclub.co.uk
After the last Sunday workshop we will have our wonderful   TLC MILONGA on  30 September
For full details click here
Sophie will also be teaching the advanced class at TLC on Tuesday 25th September – for full details click here
Add to iCal or